The 34th Street Partnership (34SP) is a not-for-profit, private management company organized as a business improvement district (BID). 34SP is funded by assessments on property within its boundaries, fees from Herald and Greeley Squares' concessions, and revenue generated by events in the squares. One of the most ambitious BIDs in the United States, 34SP receives no tax dollars, nor does it solicit funds from philanthropic donors. The public pays not one cent for the outstanding services and capital plant that the Partnership delivers.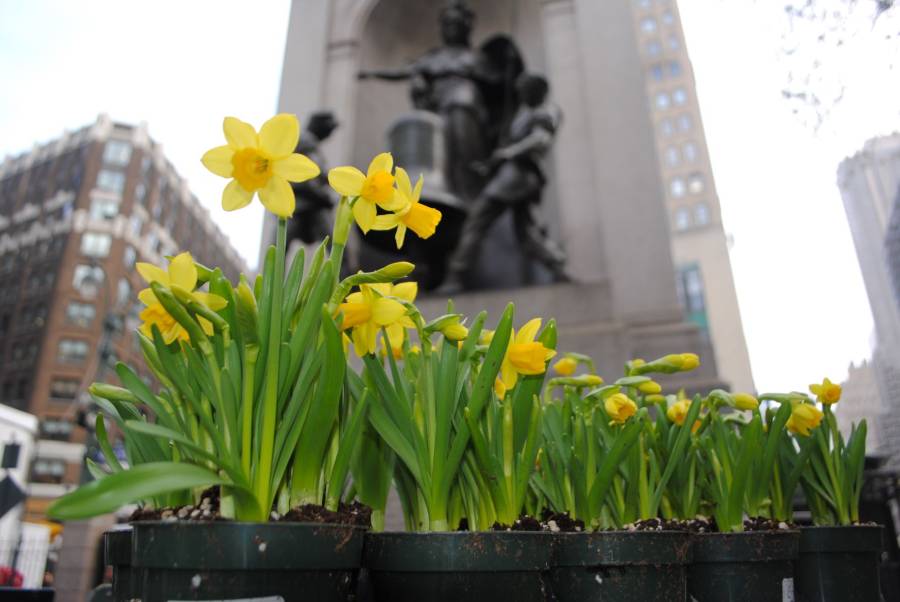 34th Street Partnership
The 34th Street Partnership's management team includes talented professionals in the fields of urban management, sanitation, security, industrial design, graphic design, horticulture, retail services, event planning and management, visitors' services, and information systems. A privately funded organization with the responsibility of providing sanitation and security services over a 31-block area, 34SP also maintains over 2,000 pieces of street furniture, mostly of 34SP's own design, and keeps the District green by maintaining trees and planters. Because of the public nature of its endeavors, 34SP cooperates closely with city agencies including New York City's Police, Parks, Transportation, Sanitation, and Small Business Services departments to help ensure the safety and vibrancy of our neighborhood. Our Board of Directors includes District property owners, business owners and residents, the Mayor and Comptroller of NYC, the NYC Council Speaker, the Manhattan Borough President, and representatives from LIRR, NJ Transit, and Manhattan Community Boards 4, 5 & 6.
34SP pays close attention to other urban improvement models and constantly seeks innovations, whether from its own staff or from outside, with an eye on the ultimate goal: always improving a busy and vibrant city neighborhood to the public.
Chairman
Gaston Silva, Vornado Realty Trust
President
Daniel A. Biederman, 34th Street Partnership
Directors
Andrea Arce, Accenture Ash Bhasin, The Pendry Hotel Andrew Bauman, Morgan Stanley
Daniel Biederman, 34th Street Partnership
Louis Brause, Brause Realty, Inc.
Andrew Burnett, Burnett Equity
Mark Centoducati, Amazon
Alan Chun, Brookfield Property Partners
Lorraine Collins, Zillow Jonathan Coun, Interpublic Group Heather Cruz, Skadden, Arps, Slate, Meager, & Flom
Eli Daskal, B&H Photo & Video
Scott Domansky, PRD Realty
Jared L. Epstein, Aurora Capital Associates
Hal Fetner, Durst Fetner Associates
Joel G. Fisher, Madison Square Garden
Dr. Robin Garrell, CUNY Graduate Center
David P. Golab, WSP USA
Eric Gural, GFP Real Estate
Stephen D. Haymes, Haymes Investment Co.
Michael Hirschhorn, Jenel Management
Louis Jerome, JEMB Realty Corp.
Steven J. Kaufman, Kaufman Organization
Thomas King, AMC Networks Inc.
Patrick Kinzler, HLW International LLP
Jason Lerner, Starbucks
Peter Levenson, The Kibel Companies LLC
James Lewis, 361 West 34th Street Corporation
Ephram Lustgarten, Global Holdings Management
Peter L. Malkin, Esq., Empire State Realty Trust
Frank McCreay, Circle Realty Group
John C. McGinley, J.P. Morgan Chase
Brian Moroz, First Republic Bank
Martin Meyer, Meyer Equities
Charles Miller, Macy's Law Department
Berndt Perl, APF Properties
Ann Peterson, New Yorker Hotel
Edward Piccinich, SL Green Realty Corp.
Penry Price, LinkedIn
Andrew S. Ratner, The Feil Organization
Scorpio Rogers, Mercy College
Howard Rothschild, Realty Advisory Board
Alan Schall, Tower 111 LLC
Gaston Silva, Vornado Realty Trust
Greg Sutherland, Elk Investors
Michael J. Sweeney, HNTB
William Thornton, The Continental
Kenneth Walsh, Adams & Company Real Estate LLC
Martin Whelan, Stout NYC
James Winter, The Segal Group
Glen J. Weiss, Vornado Realty Trust
Ex-Officio
Hon. Brad Lander, Comptroller of the City of New York
Hon. Adrienne Eadie Adams, Speaker of the Council of the City of New York
Hon. Kevin D. Kim, Commissioner of Small Business Services
Hon. Mark Levine, Manhattan Borough President
Kevin S. Corbett, New Jersey Transit
Philip Eng, Long Island Railroad
Jeffrey LeFrancois, Manhattan Community Board 4
Vikki Barbero, Manhattan Community Board 5
Kyle Athayde, Manhattan Community Board 6
Dan Biederman, President
Operations
Kati Solomon, Vice President
Rachel Zurier, Vice President, Operations & Programming
Max Wycisk, Manager
Ben Bryden, Manager, Operations & Programming
Maddie Baker, Manager
Matt Trump, Park Manager
Liz Riegel, Analyst
Greg Ackell, Coordinator, Operations & Events
Zachary Beresin, Receptionist/Office Manager/Research Assistant
Brand Partnerships and Events
Irene Vagianos, Vice President
Dan Fishman, Vice President, Public Events
John Zeitoun, Director, Partnerships
Alice Cashman, Associate Director
Rinesty Rusli, Manager, Events & Programming
Zachary Barnwell, Manager, Events
Kelly Collins, Manager, Brand Relations
Maeve DeFronzo, Associate, Events & Programming
Eric Mueller, Director, Graphic Design
Thomas Hamilton, Associate Director, Graphic Design
Nathaly Torpoco, Associate, Graphic Design
Security and Sanitation
Tim Beaudette, Vice President
Hugh Ross, Deputy Assistant Chief
Sanitation
Vinny DeGenarro, Chief
William Glynn, Assistant Chief

Capital Projects
Marc Boddewyn, Vice President
Neha Sabnis, Director, Urban Design
Nina Cherian, Project Director
Rich DeRancy, Senior Project Manager
Scott Giles, Senior Electrician
Robert Crews, Senior Maintenance Technician
Angie Kim, Junior Architect
Horticulture
Maureen Hackett, Director
Amadou Thiam, Assistant Director
Retail + Visitor Services
Dan Pisark, Vice President, Retail
Quentin Robbins, Vice President, Visitor Services
Tricia Lewis, Director, Digital Media
Nancy Ng, Director, Special Projects
Susie Sigel, Producer, Special Projects
Jason Feliciano, Manager, Visitor Services
Kiara Bryant, Associate, Digital Media + Events
Accounting, IT, and Administration
Peter Ciriello, CFO
Inessa Kanevskaya, Deputy Controller
Kathleen Chalmers, Accountant
Claire Austin, Executive Assistant
Jean Daniels, Clerk/Dispatcher
Tomo Nakanishi, Director, IT
Paul Nator, Support Associate, IT