Visitors to 34th Street may notice that our street furniture is a cut above that of other city districts. We design, develop, and closely monitor the production of each element, resulting in attractive, high quality, and coordinated street furniture that lend 34th Street a signature look.
Bike Racks
Our bike racks are attractive, functional, and leave a small footprint on the busy city landscape.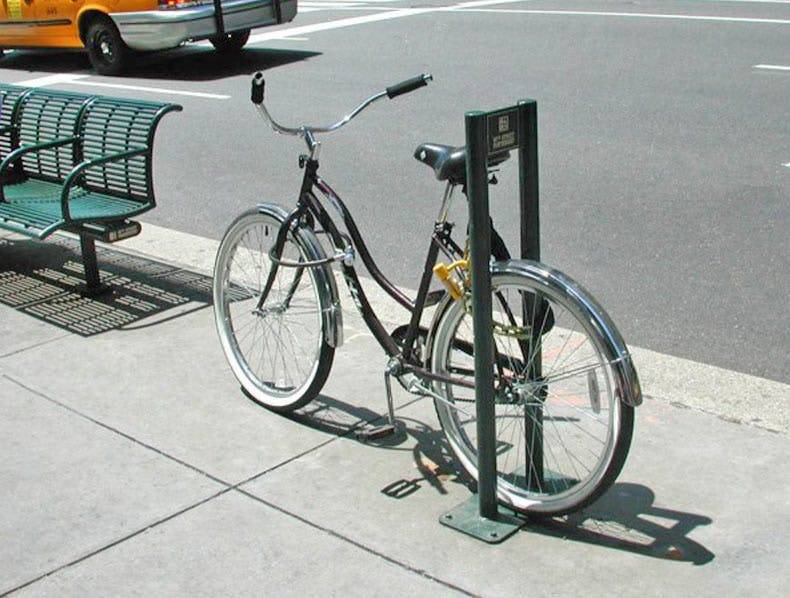 CityBench
34SP maintains 35 benches placed along the District's major thoroughfares, perfect rest havens for package-laden shoppers and weary sightseers.
The CityBench is inspired by the constant movement and urban rhythms of New York City. The three seats on each bench have generous proportions to accommodate a wide range of people with ample space. As part of the CityBench program, NYC DOT installed 1,000 units in all five boroughs to make streets and sidewalks more inviting for New Yorkers.
CityBench
NYC Department of Transportation
CityBench designed by: Ignacio Ciocchini, Industrial Designer
Patents: US D655,937 S & US D655,928 S
Manufactured by: Landscapeforms / Studio 431
Sales: Denise Smith, (800) 430-6206, ext 1331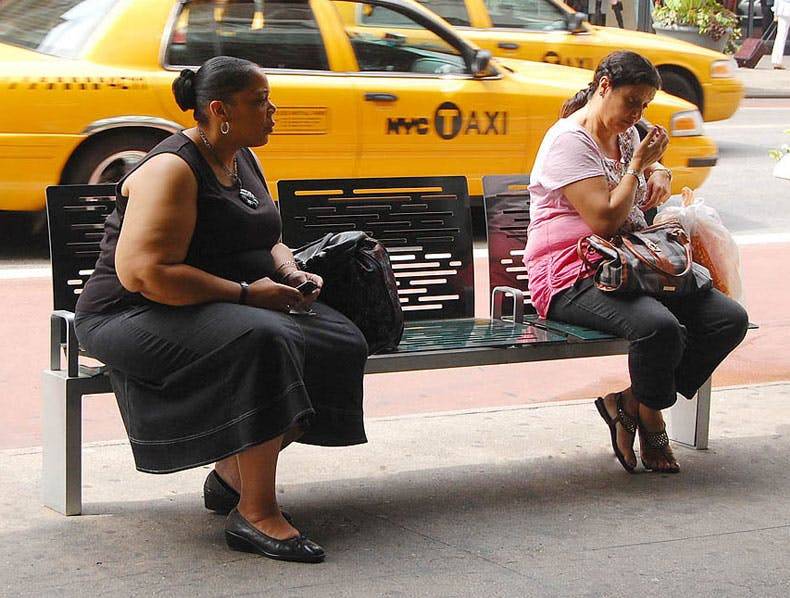 Hanging Baskets & Planters
More than 150 hanging baskets, mounted on our own lightpoles, beautify the streets and mark the seasons by displaying colorful living flowers.
34SP maintains more than 500 planters in the District, including those in Herald and Greeley Squares, in front of Macy's, and along 34th Street. Planted seasonally, they add color and drama to our sidewalks.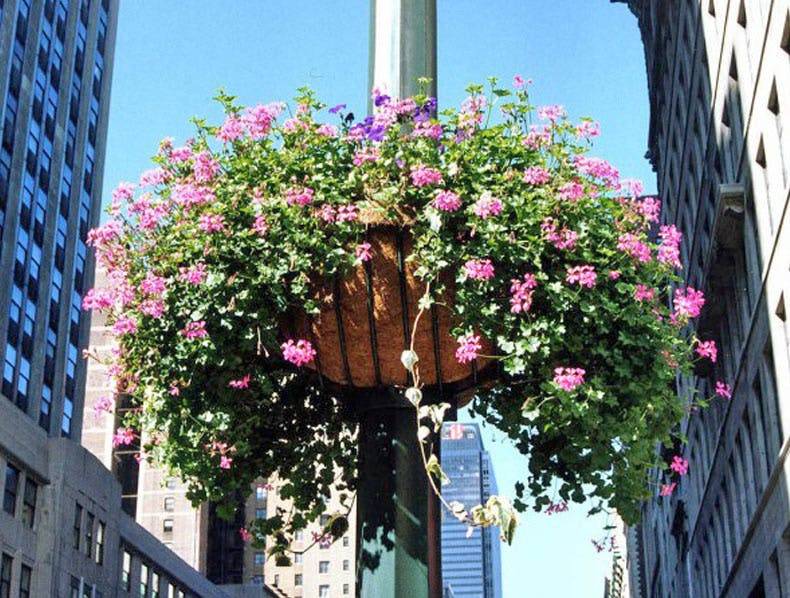 KnowNYC
Wonders of the Sea on display at the New York Aquarium on 35th Street, opera at the Manhattan Opera House on 34th Street, gambling at the Bronze Door on 33rd Street, and much more.
Know NYC, 34th Street Partnership's history sign system, creates a sense of place for pedestrians at 21 historic sites in the 34th Street district. Through themes of transformation, commerce, and community, the signs tell the story of the district's illustrious past.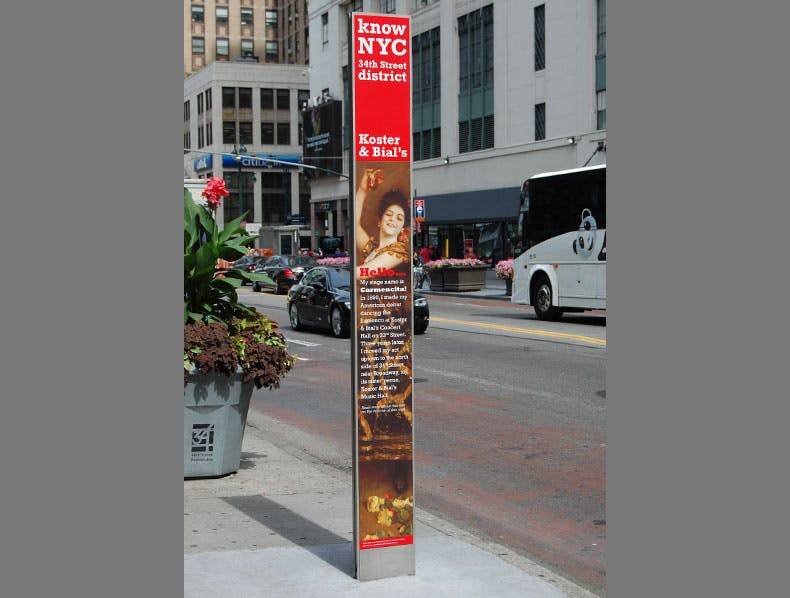 Information Carts & Kiosks
Stop by our staffed information carts at Herald and Greeley Squares and at Penn Station for directions, suggestions, and brochures. The attendants are friendly and conversant in at least two languages.
While you're visiting 34th Street, our handy information kiosks will help you find where you want to go and what you want to do. Each kiosk includes a detailed map of the immediate area and a list of attractions.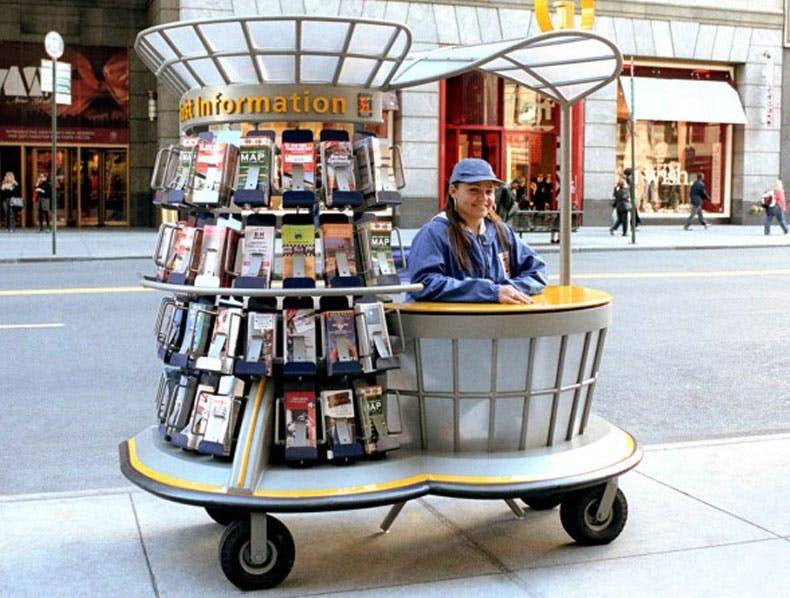 Lightpoles
The 34th Street District is kept well-lighted at night by over 300 lightpoles maintained by 34SP. Their metal halide lamps emit a clean white light that produces a truer color rendition than standard high-pressure sodium lamps.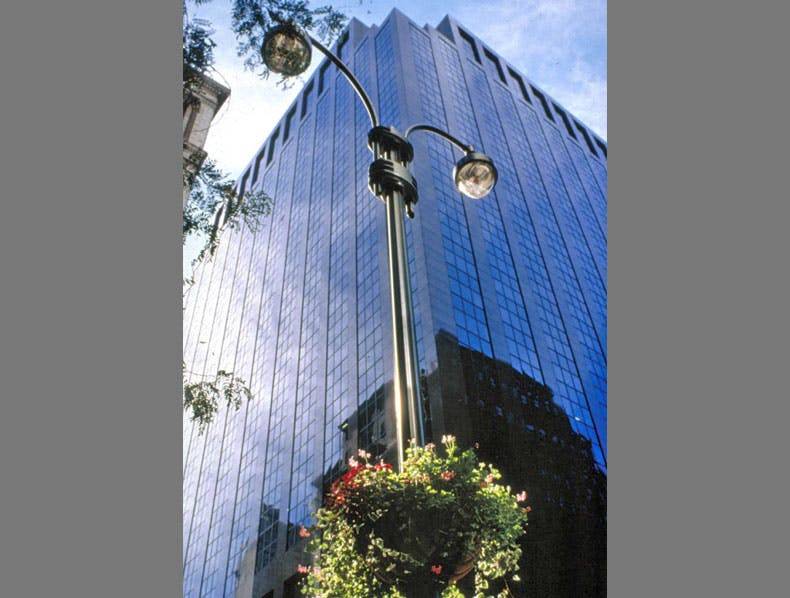 Recycling
Our recycling cans are inspired by the city and parks they sit in, and are designed to take cans or paper, respectively.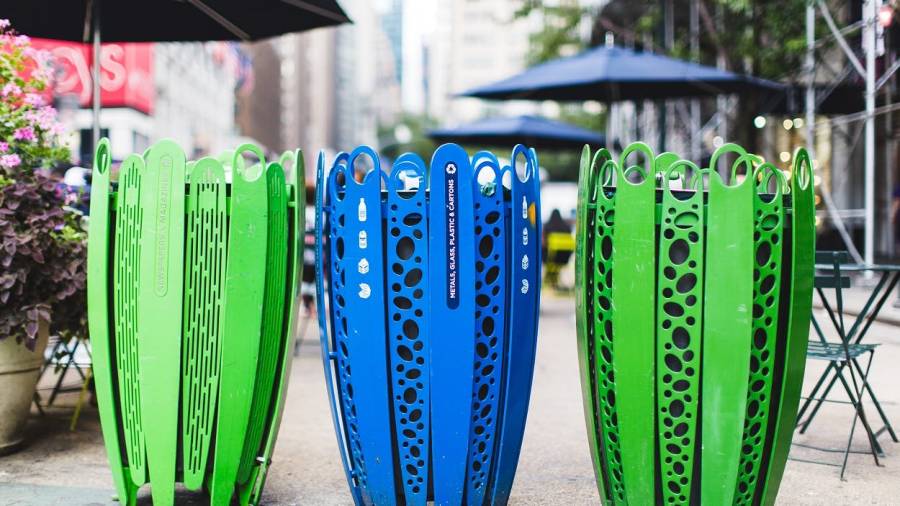 Angelito Jusay
Restrooms
The 34th Street Partnership maintains sparkling clean and beautifully appointed restrooms at each of the parks at Herald and Greeley Squares. They are free of charge and open to the public during all park hours.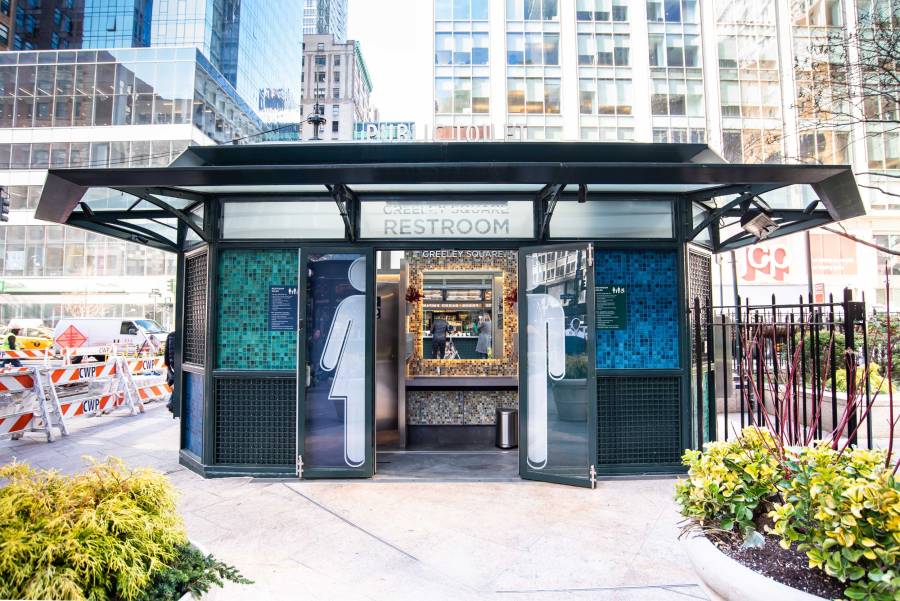 Jane Kratochvil
Signage
Our eye-pleasing park and public space signs convey all you need to know about Herald and Greeley Squares, including hours of operation, regulations, and information about 34SP.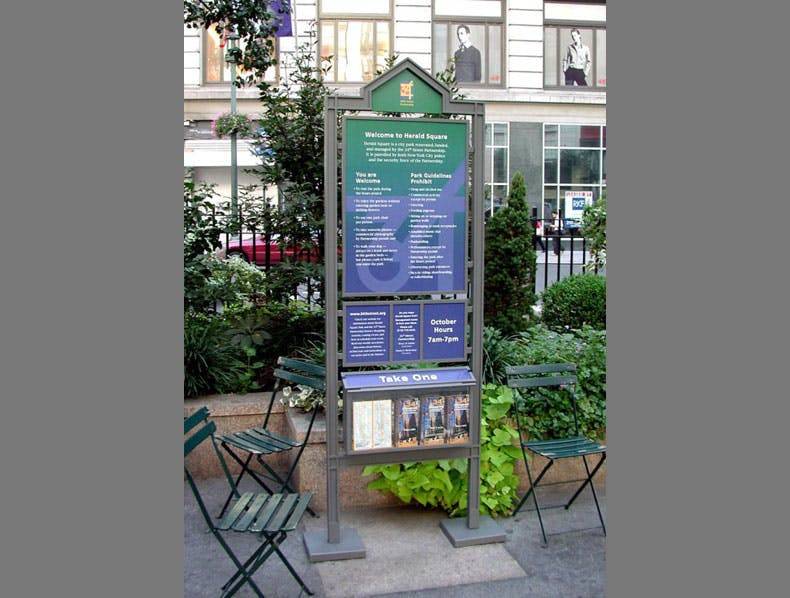 Street & Parking Signs
Parking in the 34th Street District has been made less stressful by our award-winning parking regulation sign system. Using friendly fonts, clear messaging, and eye-pleasing graphics and colors, our signs take the guesswork out of parking.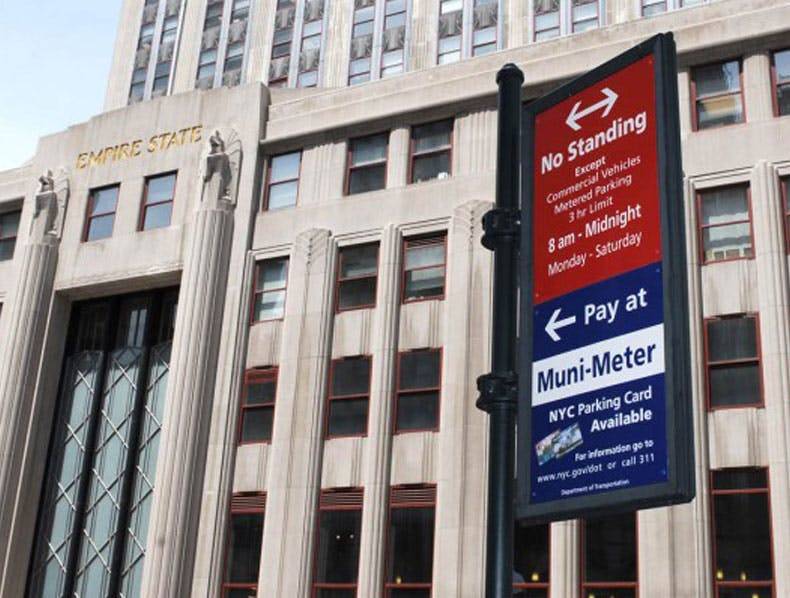 Taxi Stand
Getting a cab is now an easy and orderly process thanks to our taxi stand outside Penn Station. Just get in line and let our attendant do the work.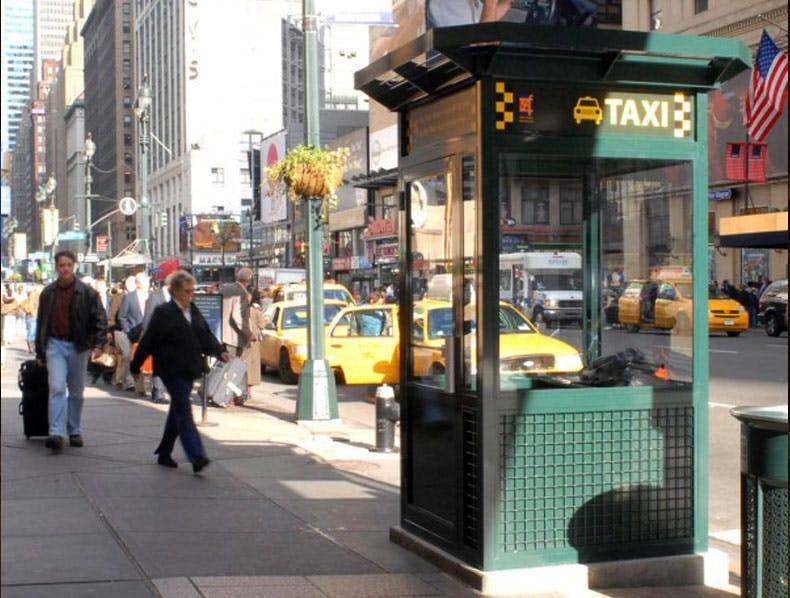 Treepits
Trees are a precious resource on NYC's streets, and 34SP maintains more than 100 of them. Our treepits soften the streetscape, add oxygen to the air, and serve as filters for water runoff.