Need information on stores, Broadway shows, tourist attractions, and more? Visitors Services is here to help.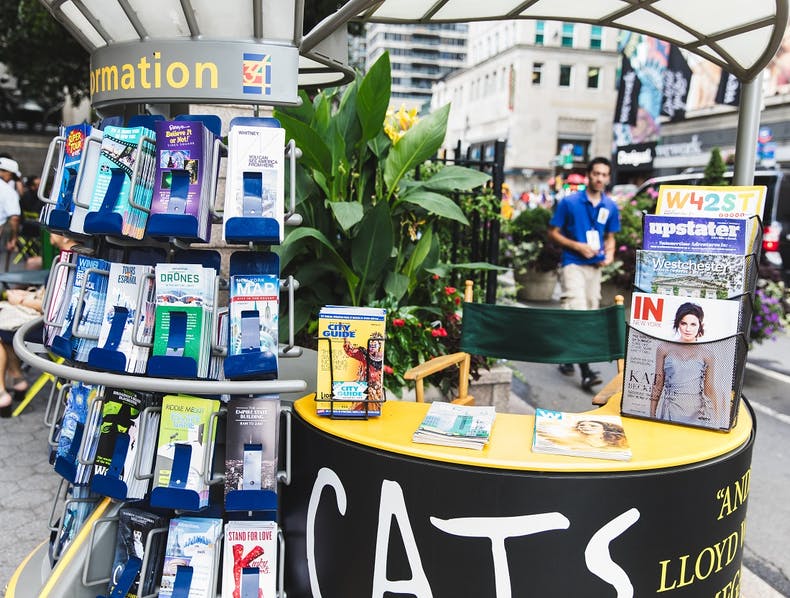 Information Carts
34SP's award-winning information carts are staffed by friendly guides knowledgeable about the District. Open daily 10am-4pm feel free to browse the cart's high-volume brochure rack for free information about all of the area's major attractions.
Herald Square Park, Greeley Square Park, 34th Street (Between 5th and 6th Avenues)
Information Kiosks
Each of the Partnership's ten direction-finding kiosks includes a map of the immediate area, a map placing the District in a larger context, and directions to the neighborhood's major attractions.
Reading Room
Our Reading Room carts are located in Herald Square Park. Open Monday – Friday 11am to 5pm, each cart has a selection of free newspapers and magazines for public use.
Penn Station Visitor Services Center
The Partnership maintains an information booth at Penn Station, open daily 9am-5:30pm, located on the Amtrak level. Staff help with transportation questions, dining recommendations, entertainment venues, and other amenities and services.
Taxi Stand
Seven days a week, the Partnership staffs and operates a taxi dispatch stand adjacent to Penn Station, with dispatchers ready to assist Amtrak passengers and Madison Square Garden audiences.