In order to determine whether your proposed event is appropriate for Herald or Greeley Square Park and to determine an appropriate site fee for your event, please email our events staff.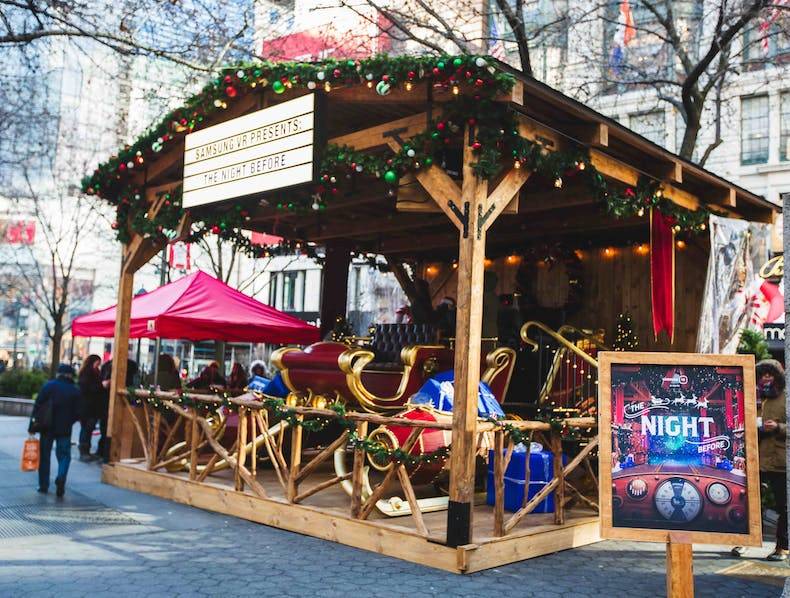 For large-scale events, it is recommended that you contact us as far in advance as possible, generally three to six months prior to your preferred event date(s).
Other events may be considered with a lead time of at least one to two months.
Events will be reviewed, usually within one to two weeks, at which point one of our events associates will contact you.
Site fees are based on the details submitted in a fully completed proposal. Estimated fees cannot be given until a complete proposal has been submitted and reviewed by the Events Department.
Herald and Greeley Squares receive no city, state, or federal money and are funded entirely by earned income. A large part of this revenue comes from fees charged to those who wish to use our park spaces for a commercial, profitable, promotional, or exclusive event. All site fees are used to operate, maintain, and improve the Squares' beauty and functionality.
Herald & Greeley Square Parks
Forming a bowtie centered on 34th Street, these meticulously maintained jewels provide a place of respite for shoppers and office workers, and make a quintessentially "New York" backdrop for events, films, and photo shoots.
They are among the few green spaces in Midtown Manhattan and feature movable chairs and café tables, large sun-shielding umbrellas, and beautiful gardens that change throughout the year.
Herald & Greeley Square Plazas
The plazas sit on a stretch of three distinct pedestrian plazas located adjacent to Herald and Greeley Square Parks in the heart of the 34th Street Partnership Business Improvement District. The plazas are available for cultural, private, and promotional/commercial activities. They are also the location of free fitness and dance classes offered each summer to the public.
About the 34th Street District
Herald and Greeley Squares are located at the crossroads of some of the city's busiest and most heavily-used attractions, stores, and transportation hubs:
600,000 commuters through Penn Station per day (over 200 million per year)
38.5 million subway passengers per year at the Herald Square/34th Street subway station
20 million shoppers visit Macy's per year
10.2 million PATH train users at the Greeley Square Park station each year
4 million yearly sports fans, concert goers, and more at Madison Square Garden
3.5 million visitors to the Empire State Building's Observatory per year