The Unsung Horticulturalist of New York
December 26, 2018
Andrew Thomas, The Epoch Times
Posted on January 22, 2019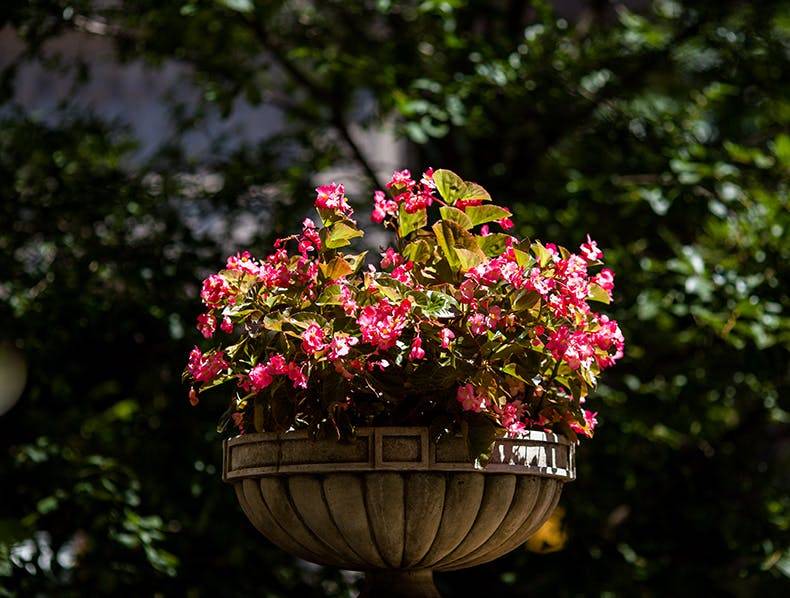 NEW YORK—At a glance, this city is a loud, concrete jungle. However, take a closer look and one will discover the lush greenery and colorful flowers that are intrinsic to institutions like Gracie Mansion and the New York Public Library.
The woman to thank for the beauty among so much chaos is the unsung horticulturalist of New York, Maureen Hackett.
Hackett has a career spanning over 30 years, and multiple awards to show for it. She's worked for numerous private clients as well as the city, and has been director of horticulture for the Bryant Park Corporation since 1995.
For her, plants are more than just ornamental. Greenery and landscape in cities is important because it affects people's health, attitudes, crime rates, and real estate values greatly.
"There have been a lot of legitimate scientific studies done that measure the effect that green and beauty in general, but especially green, affects a neighborhood," Hackett told The Epoch Times. "It's a very interesting subject."
Hackett recently shared with The Epoch Times how she became a horticulturalist and the work that goes into keeping the city's green spaces beautiful.
From Dead Plants Blooms a Career
Hackett first developed an interest in horticulture while attending Oregon State University in the 1970s. She was sharing an old Victorian house with roommates, and on a windowsill there was a large array of mostly dead plants left by a previous tenant.
One night, Hackett, who was working nights as a waitress, brought home a friend for some advice on what to do with the plants.
"She just shook her head and said, 'Just give them some water,'" Hackett said with a chuckle.
Within six months, Hackett had a thriving collection of diverse plants and flowers. Impressed, one of her roommates suggested she switch studies to the school of horticulture.
So she changed her major.
After graduation, Hackett ended up working for the U.S. Department of Agriculture performing irrigation research on vegetable crops in the U.S. Virgin Islands to try to encourage farming there.
A few years later, she wanted to go back to graduate school to study biochemistry, and while studying for the Graduate Record Examinations, she took a job with the Central Park Conservancy loading trucks with mulch and performing other types of manual labor.
"I got kind of distracted because I started to see ornamental landscape design, and how it was being applied to this huge public space," Hackett said.
It was the spark for her later career in landscape design.
Head Gardener
While Hackett was working for the Central Park Conservancy, she ran into a problem that many young New Yorkers face: being able to afford a place to live.
Hackett had made some friends, and one named Pepe Maynard gave her a room in her apartment on the Upper East Side of Manhattan in exchange for landscape work on an estate in Bedford, New York.
Maynard was the assistant director at the Central Park Conservatory Garden, and it wasn't long before Hackett was recruited to be head gardener there.
"I guess I had a passion for it, so it happened very quickly," Hackett said. "I learned a lot there; it was very hands on."
It was an idyllic place, which felt like an oasis from the violence in the city during the 1980s. But the formal gardens needed considerable restoration work after being neglected for years.
"There was a beautiful fountain, beautiful statuary, there's a lot of history there. There was a lot of old growth trees, there was crabapple; it's just a beautiful spot and it's in Central Park, right on Fifth Avenue," Hackett recalled.
Though it was a dangerous time, they never had any problems in the 3-acre garden.
"People came in, and they changed—the environment changes them, it makes them calm down. And we never had any serious issues while I was up there," Hackett said.
After Hackett's tenure at the Central Park Conservatory Garden, she took a job in 1987 as the head landscaper at Gracie Mansion, the mayor's residence.
It was an exciting project. She had a lot of leeway as long as she complied with the city's parks department rules. The existing landscape had been uprooted, and cleanup and redesign had to be done.
"Gracie Mansion just became my private laboratory," Hackett explained.
Mayor Ed Koch told Hackett he wanted more color, so she planted a rose garden and other display gardens, reconfigured the Wagner Wing, made it a white and green garden, and planted magnolia trees and roses at the entrance.
The four-year project was hugely successful.
Making New York Beautiful
A few years after working at Gracie Mansion, Hackett became the director of horticulture for the Bryant Park Corporation, 34th Street, and Grand Central partnerships.
"The job was almost custom made for me in some ways, because it was a combination of public and private needs and organizations," she said.
Her mission was to make sure the gardens and landscape were immaculate, beautiful, and maintained. When it came to Bryant Park, which gets 10,000 visitors a day, she wanted to make it look and feel like a private estate.
"You create that with various things … The bathroom, it looks like a private bathroom in a fancy hotel, and that just creates that whole ambiance and people love coming [to the park]," she explained.
The New York Public Library is technically located in Bryant Park, and Hackett was responsible for all of the plants and greenery surrounding the library. She felt the landscape, while pretty, could be improved.
Hackett removed all of the high hedges, magnolia trees, and roses from the front of the library because they obscured the library's upper plaza. She created lawn panels on either side of the lion statues, and a mixture of boxwood and seasonal displays in a linear setup behind the lawn panels.
The sections of the library on the 42nd and 40th Street sides feature patios where people can dwell and take in the scenery.
"The net effect to me was that it allowed the library building to take more center stage, and to be more clearly and simply appreciated," Hackett explained. "It was basically about simplifying it, but nevertheless, it's very lush."
Each season features different flowers in the front of the library, with chrysanthemums in the fall, followed by a winter display of holiday greens and berries, 5,000 bulbs blooming in the spring, and then a summer display of mostly begonias.
These days, she is responsible for the design and maintenance of the gardens, and liaising with the various teams that make it happen.
Out of all the different flowers and plants, Hackett says trees are the "bones" and are the most critical in a space, providing a natural canopy and perspective in the landscape.
"One of the most transforming elements in a landscape can be trees. The more I do landscape design, as my kind of palette and my style matures, I've found that it's become more simple, and I try to do more minimalistic approaches. Less is more."
When a project is finished, Hackett loves to see how people are enjoying the space, and that the design is working.
"When it works well, you can tell by people's reactions, by seeing how they use it," she said. And that provides her with more than enough satisfaction.