Midtown South, Manhattan: A Commercial Neighborhood Sees an Influx of Residents
December 25, 2019
Aileen Jacobson, The New York Times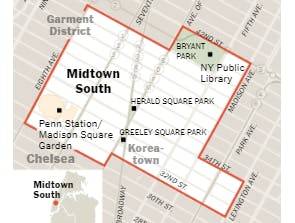 Marta Wöhrle and her husband, Pascal Volle, were relocating to New York from London in 2001 and mostly looking in Chelsea when they came upon a two-level, "very affordable" apartment that was just what they needed. However, she said, "It was in a strange location," tucked away on an almost-entirely industrial side street two blocks from Pennsylvania Station.
It turned out to be in Midtown South, a neighborhood that, besides encompassing bustling Penn Station and the attached Madison Square Garden, also envelops Herald Square, Greeley Square Park, Bryant Park, the Stephen A. Schwarzman Building of the New York Public Library and the Empire State Building. In recent years, it has become more residential — and more pleasant — over all.
We wanted a loft, a fairly raw space, and some outdoor space," said Ms. Wöhrle, 59, the founder of Truth in Aging, where women test beauty products for the website, which also sells the most highly regarded. Ms. Wöhrle and Mr. Pascal, 58, who works in mergers and acquisitions in the media field, paid $1.3 million, she said, for what is now, after extensive renovations, a three-bedroom, three-bath co-op apartment with a large rooftop terrace in a former button factory. It feels quiet and secluded on weekends, she said. Theirs is still the only residential building on the block, which otherwise is filled with remnants of the garment industry that once thrived in the area.
"One of my hobbies is dressmaking, so this a perfect area for me," said Ms. Wöhrle, formerly the senior vice president-digital for Hachette Filipacchi Media. "If I need a zipper or some fabric, I can just pop down to one of the stores." She also likes the many small food shops nearby — "It feels like being in Europe" — and, more recently, the addition of the High Line and Hudson Yards to the west.
"I'm always kind of surprised that it has a community feel," she said. "People know me. They recognize me at the butcher's, and I chat with the postman."
On the eastern end of the neighborhood, Judith Kaufer, a clinical psychologist, and her husband, both in their 60s, live in a prewar three-bedroom, three-bath co-op on Madison Avenue that was intended as a residential building. But still, she said, "We feel we are on the edge of what is mostly a business district." That is changing a bit, she said, as a few new condominiums are being added on Madison and Fifth Avenues. "Our building has a roof deck, and when we sit there, we are aware of how the buildings are just sprouting like weeds all around us," Ms. Kaufer said.
The couple moved from a Chelsea loft in 2005, she said, after her mother died and she invited her father, then 86 and living alone, to join them. "We needed a place that worked better for three adults, with occasional visits from our sons," now 36 and 39, she said. "My father had his own little area and his own bath."
He died in 2017, but Ms. Kaufer said she has grown too attached to the neighborhood to want to move. She can walk to her office on Third Avenue, shop at Macy's (now that Lord & Taylor's Fifth Avenue store closed earlier this year, she said) and easily reach public transportation on the east and west sides of Manhattan, to get to Lincoln Center or visit friends. She uses nearby branch libraries to pick up books, she said, but takes her grandchildren to the main building's "wonderful children's room" and to Bryant Park behind it.
Though Ann Miller, an investment banker, lives closer to Penn Station, she passes through Bryant Park when she walks to her office at Lexington and 53rd Street. "It's nice to sit there, though I never have time to watch the movies they show in the summer," she said. Ms. Miller, 50, had been renting a small duplex in Hell's Kitchen, and the one-bedroom co-op apartment with big windows and tall ceilings that she found in 2002 in a former industrial building "spoke to me," she said. She bought it for $485,000 and later, for $500,000, added the other unit on her floor, spending "twice as much" for renovations.
"It was a labor of love," Ms. Miller said. "It was my own little oasis." Her husband, Francois Merazga, 51, whom she married in 2005, had encouraged her to buy the second apartment, she said. He manages co-ops and condos. Her block had three co-ops when she moved in, including one inhabited by artists, some of them well-known, she said. Recently, a condo was built, and, on nearby streets, small hotels have popped up. She endured three years of construction, she said, "but that's over. We're already back to quiet."
In general, she said, "I like gentrification. It was a wasteland before, not a good use of space." She used to joke that she lived "in the dirty 30s, between Penn Station and Port Authority. It's very different now."
What You'll Find
An irregularly shaped area stretching from 30th or 31st Street to 40th or 42nd Street, and from Eighth Avenue to Madison or Lexington, Midtown South, as defined by StreetEasy, avoids trespassing on such established neighborhoods as Kips Bay and Chelsea. (Other definitions are broader.) It includes the restaurant-filled neighborhood known as Koreatown, mostly centered on West 32nd Street from Avenue of the Americas to Fifth Avenue. It also includes a large part of the area called the garment district, even though only 5 percent of its work force is garment industry-related, according to Barbara A. Blair, the president of the Garment District Alliance.
"It has changed dramatically if you go back 10 years," Ms. Blair said. "It was really stagnant for a long time," as garment manufacturing moved elsewhere in the world and zoning restricted some uses of the buildings. Now the area is diverse and dynamic, she said, with an increase to 139,000 jobs in 2018 from 89,000 jobs in 2000, and 43 new hotels since 2005 in the whole district. That has brought in more coffee shops and restaurants, which in turn make the area more attractive for residential use. In addition, she said, her alliance has added planters, seating and wider pedestrian areas along Seventh Avenue and Broadway.
This kind of beautification is happening elsewhere, too, said Daniel A. Biederman, the president of the 34th Street Partnership and the executive director of the Bryant Park Corporation. "We've come a long way since the '70s, when murders, rapes, assaults and everything terrible was happening in Bryant Park," he said. "We've made it clean, safe and pleasant."
What You'll Pay
Of the 53 apartments for sale on Dec. 18 on StreetEasy, the most expensive was a five-floor, 11-bedroom, 14-bath new condo penthouse at 172 Madison Avenue, offered at $98 million. The least expensive was a sixth-floor studio co-op with Empire State Building views and a 24-hour doormen at 159 Madison Avenue, asking $419,000. The median for a two-bedroom $2,437,500.
Prices generally aren't as high as in more established surrounding neighborhoods like Murray Hill, Chelsea or NoMad, said Michael J. Franco, a broker with Compass. "But I think the neighborhood will become more desirable as there is more residential development," he said. The trendy Chelsea-Hudson Yards designation "will clearly push east," he said, bringing more people with it. "The rental market is pretty strong right now," he added.
There were 113 apartments for rent, ranging from a three-bedroom, two-bathroom penthouse at 42 West 33rd St. for $14,000 a month, to a third-floor studio at 18 West 37th St. for $2,195. The median asking monthly rent for a one-bedroom was $4,184.
The Vibe
Though they may be jostled by tourists and office workers, local residents have an edge in some ways. They find it easy to take advantage of events at Madison Square Garden, said Talia McKinney, an agent with Nest Seekers International. "If you want tickets to a basketball game, you can just walk over and get them," she said. Young fashion designers, many of whom are still clustered in the area, find it handy to be near the supply shops that still exist and to the Dover Street Market, an eight-story showcase for hip and high-end fashion on Lexington Avenue.
The Schools
Among the schools that students may be zoned for is Public School 116 Mary Lindley Murray, which has 500 students in prekindergarten through fifth grade. The 2018-19 School Quality Snapshot shows that 71 percent met state standards in English, compared with 48 percent citywide, and 67 percent met the standards in math, compared with 50 percent citywide.
At P.S. 051 Elias Howe, with about the same number of students in the same grades, 41 percent meet state standards in English and 47 percent met them in math.
P.S. 033 Chelsea Prep has 614 students in the same grades, with 64 percent meeting state standards in English and 62 percent in math.
The Commute
You can get almost anywhere from here. Subway lines that make stops include the 1, 2, 3, 6, 7, A, B, C, D, F, M, N, Q, R, S and W lines. PATH trains stop at 33rd Street, and Pennsylvania Station is home to trains that serve Long Island, upstate New York, New
The History
The names of three parks are connected to past and present New York newspapers. Bryant Park is named for William Cullen Bryant, who in 1829 started a 50-year career as editor in chief of the New York Evening Post, a newspaper that was founded by Alexander Hamilton and is now the New York Post.
Herald Square, a city park, was named after The New York Herald, founded in 1835 by James Gordon Bennett and published near the park's location at the Avenue of the Americas and Broadway between West 33rd and 34th Streets. A monument in the park includes a clock that formerly topped the Herald building.
Adjacent to the square, between West 32nd and 33rd Streets, lies Greeley Square Park, which features a statue of Horace Greeley, founder and editor of The New York Tribune. Started in 1841, it merged with the Herald in 1924 to form The New York Herald.